ABOUT
Hello, and a warm welcome to The Bay Tree Cottage, a stylish and comfortable holiday home for two right on the edge of the South Downs National Park.
To check prices, availability and to make a booking call +44 (0) 7821 465995 or send a message
One of the most beautiful stretches of the South Downs Way can be reached by footpath from the doorstep, but if you don't fancy the climb there are roads to the top too. Either way, don't miss the views. On a clear day you can see as far as the Isle of Wight to the south-west, and in the other direction, across to the North Downs.
The cottage was originally built as a workshop and has recently been converted into spacious self-catering accommodation. Light from west facing windows floods the vaulted living space. The windows look over a private terrace to a shared garden and stunning sunsets. The bedroom with king-size sleigh bed has a generous en suite shower room.
The Bay Tree Cottage is an ideal base for walkers and cyclists and from which to enjoy the county's internationally famous sporting and cultural highlights – Goodwood's motorsport and horseracing events; summer arts festivals in nearby Arundel, Petworth and Chichester; and closer to home, the tudor splendour of Parham House, Amberley Working Museum, South Down Gliding Club, Wiston Steam Rally, and the RSPB's Pulborough Brooks reserve.
I have lived here for twenty years and love the 'whale-backed downs' as Kipling described them. I enjoy the glorious walks, the chalk hill flora and fauna, the area's history, its geography and its people. I look forward to sharing them with you.
Shona Partington
EATING IN
Eat out at home. It's not a puzzle but an extra choice at Bay Tree Cottage. If you fancy staying in and having dinner served here at your own table, order by 10 am, or even better the evening before, and say at what time you would like to eat. (If I have gone for an early swim or walk, you can leave me a note or text your choice to 07821 465 995)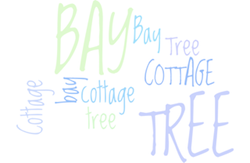 SPRING MENU
FIRST COURSES
Warm mushroom and butter puff pastry tart with a hint of thyme
£5.50
Rillettes of duck with griddled sourdough bread and cornichons
£5.50
Smoked trout salad with fresh and pickled fennel, celeriac and fresh horseradish cream
£5.50
Cream of tomato and red pepper soup with Parmesan croutons
£5.50
Potted prawns (sustainably fished in the North Atlantic) with brown granary toasts
£5.50
MAIN COURSE CHOICES
Rack of lamb served with decadently rich Savoyard potatoes, green beans, Savoy cabbage, gravy and redcurrant jelly
£12.50
Daube of beef. Tender pieces of beef in a red wine gravy, served with gremolata, creamed potatoes, green beans, roasted shallots.
£12.50
Guinea fowl lasagne. A Cuban recipe layers mushrooms, red peppers, aubergines, tomatoes, whole pieces of guinea fowl and, of course, pasta, all baked in a vibrant creamy sauce. Served with a green salad.
£12.50
Fillet of lamb with a sour cream and dill sauce is a delicious Norwegian recipe served with new potatoes, green beans and spring cabbage
£12.50
Salmon Wellington, a fillet of salmon with herbs, encased in a plait of golden butter puff pastry and served with a medley of petits pois, green beans and miniature potatoes.
£12.50
Chicken escalopes with Parma ham and sage, served with ribbons of egg pasta, freshly grated Parmesan and a lively green salad
£12.50
CHEESE
A selection of Sussex cheeses served with grapes and crackers
£10
DESSERTS
A delightfully moist Italian apple cake. served warm with pouring cream or Greek yogurt
A classic chocolate tart with crisp, almond enriched pastry and an intense dark chocolate filling.
Berries stacked with delicate shortbread and lightly sweetened whipped cream.
£5.50 each
This menu is based on ingredients that are usually available here at this time of year. Minimum order two courses
Life's too short to make butter puff pastry, pickle cornichons, and bake every loaf, but everything else is home-made. Chicken and eggs are organic. Other poultry is free-range. My kitchen isn't a nut-free zone.
EATING OUT
There are English/European, Thai, Indian, and Chinese restaurants in the centre of Storrington, plus a hotel, several pubs, a fish and chipper, and a choice of takeaways. A little further afield there are real country pubs and restaurants that serve notably good food.
THIRTEEN CHURCH STREET is the unlikely name and location of small Thai restaurant with a big reputation. See its deliciously appetising website for menus, prices and opening times.
01903 746964
www.thirteenchurchstreet.co.uk
THE CROWN INN Cootham is within crawling distance of Bay Tree Cottage and the nearest stop for a pint and a bite of traditional pub grub.
01903 742625
www.crowninncootham.com
THE COTTAGE TANDOORI at 25 West Street is a Storrington institution with traditional red plush décor and an unchanging menu. It offers takeaway and delivery services.
01903 743605.
GOLDEN WILLOW Chinese restaurant at 5 Pulborough Road overlooks the village pond. Its menu hasn't changed in years but that does not deter its loyal customers who flock to the eat all you like Sunday lunchtime buffet. It does takeaways.
01903 740333
www.goldenwillowstorrington.co.uk
THE WHITE HORSE INN at Mare Hill, Pulborough, has menus that reflect the seasonal availability of local ingredients. Sit beside an open fire in winter or in the garden on balmy days.
01798  872189
www.whitehorsepulborough.co.uk
THE HORSE GUARDS INN at Tillington, is just past Petworth going west, and worth a detour. Its seasonal menus of locally sourced ingredients are so popular that it is always wise to book, and at busy times, well in advance. The traditional pub interior has been given a lick of shabby chic style that sits comfortably with log fires and twinkling glasses.
01798 342332
www.thehorseguardsinn.co.uk
THE WHITE LION at Thakeham is an old coaching inn, now well off the beaten track in the centre of the long bypassed village. Word of its mighty pies and puddings made with local venison and beef draw hungry walkers and locals to its hospitable doors.
01798 813141
www.whitelion-thakeham.co.uk
AMBERLEY CASTLE is a grand country house hotel much in demand for weddings and family celebrations. Its formal fine dining restaurant has two tasting menus, one vegetarian. Afternoon tea is the full works and just the thing to drown your sorrows when rain stops play.
01798 831992
www.amberleycastle.co.uk
BOOKING
To check prices, availability and to make a booking call +44 (0) 7821 465995 or send a message
Terms: a deposit of 30% of the total rental cost secures a reservation. The balance of the rental fee and a returnable deposit against damage of £100 are payable 28 days in advance of the arrival date.
Cancellation: a guest cancelling 28days or more before the booked arrival date will receive a full refund. A cancellation notified 14 to 27 days before the booked arrival date will receive a 50% refund.
Payment may be made by cheque or direct bank transfer. The payee, bank details and postal address are provided to guests making a provisional booking.